Juggling career and family is never an easy feat. You get the kids ready for school in the morning, work  during the day, cook and wash the dishes at night,  clean during the weekends, and make time to watch the kids' school plays and soccer games. It could be fun… but then it could become exhausting in the long run.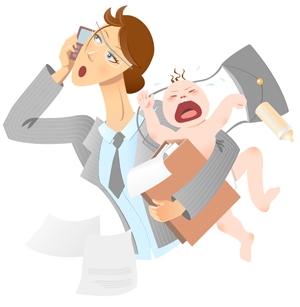 Here are some tips achieve work-life balance for mums:
1.  Have a regular "ME" time.  Multitasking can be stressful.  One way to avoid burnout from overwhelming workload is to allot some time for yourself.  In the morning, after waking up, enjoy your cup of coffee in the patio; or watch your favourite movie on Friday nights; or make sure you have at least seven hours of sleep a day.  Pamper yourself a little.  You deserve that.
2.  Get organised.  Leave as little as possible for the panicky mornings, and avoid procrastinating! Prepare what you can before bedtime. Get the uniforms ready; prepare the socks, shoes, and underwear; and pack the bags the night before. Plan meals for the entire week and have a grocery list when shopping.
3.  Delegate.  Ask help from the rest of the family. Get help from your husband.  Ask him to take over some tasks you often do. Avoid being too critical about how he gets things done, no matter how awkward.  
And if your children are old enough, assign them chores.
4.  Don't lose focus.  When you're at work, remember to give 100% of your effort as an employee or business owner.  But when you're home, you're 100% the parent.  Whenever possible, evenings and weekends should be family time. Turn off your smart phone, if needed.
5.  Organise back-up childcare plan.  This is not a perfect world. Work emergencies happen; meetings run late; you get stuck in traffic; and your husband has to work. Have a trusted family member, friend, or babysitter who can look after the little ones. You can also network with  people in your neighbourhood and have  informal agreement that you can call on them to help if needed.
What about you? Are you are career mum? How do you manage your day and your week? Are you happy with your work/life balance or do you think it needs to change?
Comments
comments
Powered by Facebook Comments